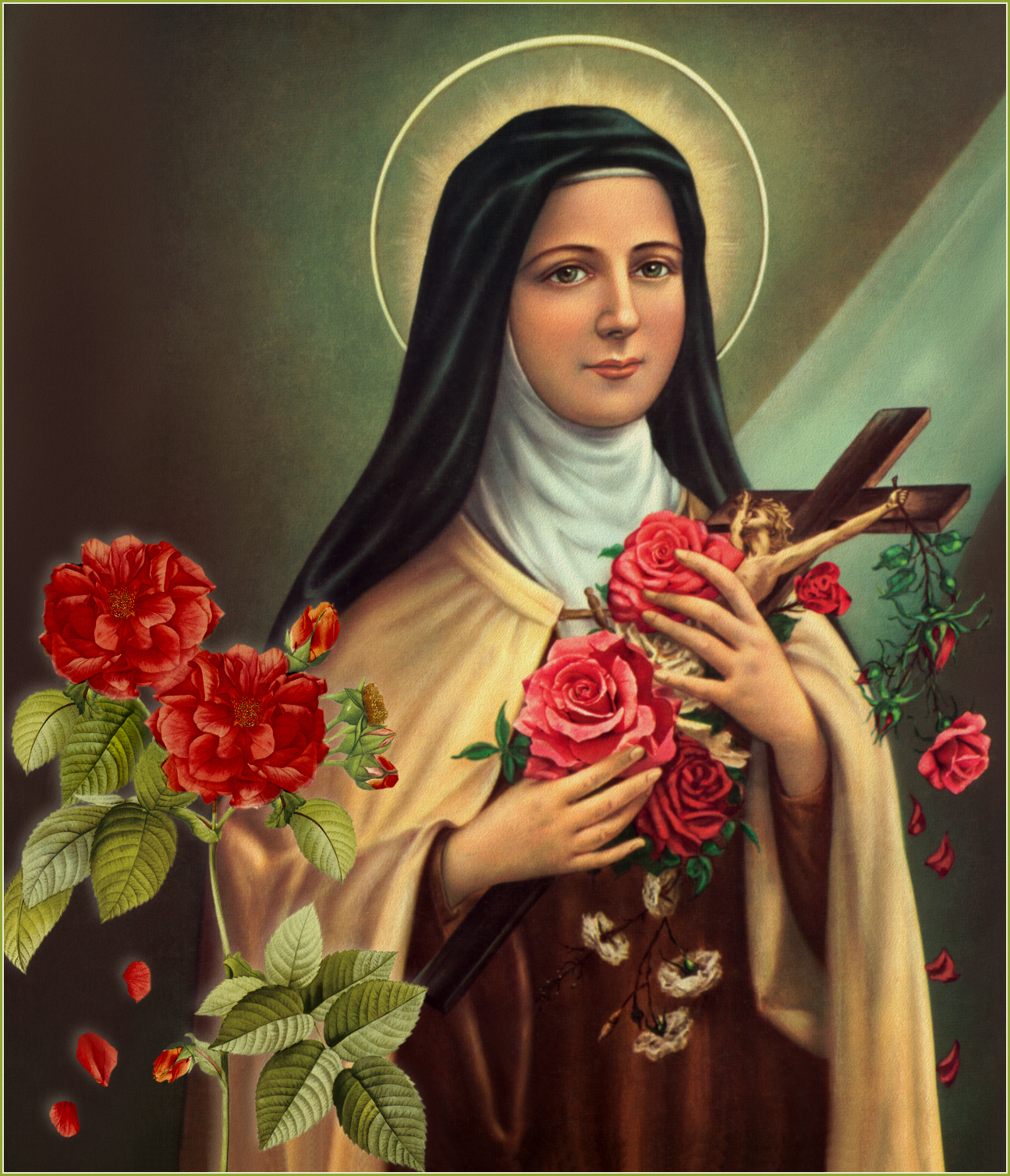 Thérèse Martin was the last of 9 children born to Louis and Zelie Martin on January 2, 1873, in Alencon, France. Abrupt and hyper-sensitive, Thérèse needed significant attention. Her loving mother died when she was 4 years of age. Consequently, her revered and beloved father and sisters babied the young Thérèse. She had an immature, self-centered temperament and was frequently ill. She wrote about an experience she had with a statue of Our Blessed Mother that she named "Our Lady of the Smile" (the statue of Mary in the home of the Martins). Thérèse was referring to Mary's facial expressions when she was miraculously healed in 1883. Thérèse discovered on Mary's face, beauty, bounty and infinite tenderness, but above all, a charming and enchanting smile.

At the age of 14, on Christmas Eve in 1886, Thérèse experienced a conversion that changed her whole life. From that point forward, her self-centered tendencies and overly emotional ways were converted. She became "other directed" and emotionally mature. After many obstacles she entered the Carmelite convent in Lisieaux to give her entire essence to the Lord Jesus. She took the religious name Sister Thérèse of the Child Jesus and the Holy Face. Living an unassuming, hidden life of prayer, she was gifted with great intimacy with God. Despite sickness and dark nights of uncertainty, she remained faithful to God, fully confident in His love and mercy. Thérèse has been called the greatest saint of modern times by Pope Pius X. 

From her earliest days on earth, Thérèse had a special knowledge of the Divine Mercy. The writings by (and about) St. Thérèse are filled with references to the Mercy of God. Divine Mercy is so central to her spirituality that she literally begins and ends her autobiography "Story of a Soul" in praise of God's merciful love. In writing the story of my soul I'm going to be doing only one thing: I shall begin to sing what I must sing eternally: The mercies of the Lord Jesus….Most of all I imitate the conduct of Mary Magdalene; her astonishing or rather, her loving audacity which charms the Heart of Jesus also attracts my own. Yes, I feel it; even though I had on my conscience all the sins that can be committed, I would go, my heart broken with sorrow, and throw myself into Jesus' arms, for I know how much He loves the prodigal son who returns to Him…On earth His love goes out to those who are the farthest off: the weak, the outcast, the sinful." It was crystal clear to Thérèse that God not only wants our love but needs it.

After a long battle with tuberculosis, Thérèse died on September 30, 1897, at the age of 24. Her last words were the essence of her life: "My God, I love you!"

The world came to know Thérèse through her autobiography, "Story of a Soul." She described her life as "the little way of spiritual childhood." She lived her life with an unrelenting confidence in God's love. "What matters in life," she wrote, "are not great deeds, but great love." She lived and exemplified a spirituality of handling the ordinary things of life with great love while relying on God's love and mercy as a child does with its parents. She believed that just as a  child becomes enamored with what /who is before it; we should also have a childlike focus/confidence on God our heavenly Father.

Thérèse saw people as different flowers in God's garden. She wrote: "The splendor of the rose and the whiteness of the lily do not rob the little violet of its scent nor the daisy of its simple charm. If every tiny flower wanted to be a rose, spring would lose its loveliness. Our Lord has deigned to explain this mystery to me. He showed me the book of nature, and I understood that every flower created by Him is beautiful, that the brilliance of the rose and the whiteness of the lily do not lessen the perfume of the violet or the sweet simplicity of the daisy. I understood that if all the lowly flowers wished to be roses, nature would lose its springtide beauty, and the fields would no longer be enameled with lovely hues. And so it is in the world of souls, Our Lord's living garden. He has been pleased to create great Saints who may be compared to the lily and the rose, but He has also created lesser ones, who must be content to be daisies or simple violets flowering at His Feet, and whose mission it is to gladden His Divine Eyes when He deigns to look down on them. And the more gladly they do His Will the greater is their perfection."

Thérèse saw the seasons as reflecting the seasons of God love for us. She loved flowers and saw herself as the "little flower of Jesus," who gave glory to God by just being her beautiful little self among all the other flowers in God's "garden." Because of this beautiful analogy, the title of "little flower" stayed with her.

Her inspiration and powerful presence from heaven touched many people very quickly. She was canonized by Pope Pius XI on May 17, 1925, Had she lived, she would have only been 52 years old when she was canonized. She was declared the greatest saint of modern times." In 1997, Pope John Paul II declared St. Thérèse a Doctor of the Church (despite no formal advanced schooling and her death at 24 years of age), in tribute to the powerful way her spirituality has influenced people all over the world. "My mission – to make God loved – will begin after my death," she stated. "I will spend my heaven doing good on earth. I will let fall a shower of roses." Roses have been described and experienced as her signature. Countless millions have been touched by her intercession and have received roses in many unusual circumstances! St. Thérèse pray for us!